Today is my birthday. I've never been demanding for my birthday and in fact I'm usually working. I took advantage of the Saturday birthday and some gift cards we got for Christmas and had a full day for less than $50. I'm lucky enough to have a wife that also likes the Lord of The Rings "type" movies. She was even excited about the Man of Steel and Start Trek previews we saw today at the Hobbit showing. We decided to take in the IMAX 3D event at 11am at Opry Mills in Nashville. With previews and ads the show was a full three hours! It was a visually stunning movie, the sound was great and while it did drag on, we like that. We feel like we get our "money's worth". Now I want to go back and read the book, which I never have read. Guess I'm not a good geek!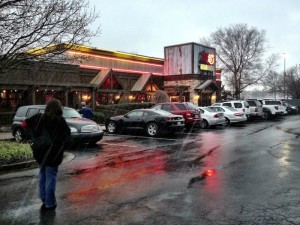 The Hobbit in the movie is Bilbo Baggins and he accompanies a party of Dwarves on an adventure thorough Middle Earth. On a couple of occasions the Dwarves are meal guests of other inhabitants of Middle Earth. We decided they were Paleo eaters, while the Elves are vegan. There's no way these beings would have enough energy for all that walking!
We left home before 8am and stopped at an IHOP and used a gift card for most of that meal. After the movie we went to Logan's Roadhouse and used another gift card. By that time it was snowing pretty good in the Nashville and Franklin area. No real travel problems though and we got home with no problem.