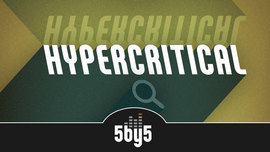 One of my favorite podcasts is Hypercritcal on 5by5.tv hosted by John Siracusa (@siracusa on Twitter) and the network's founder Dan Benjamin (@danbenjamin). John is a super bright guy and a nerd in every sense of the word. A few weeks ago they announced that episode 100 (released today) would be the final episode. John, as you might guess from the title of the "show", picks apart various things and explains what's wrong with them. Mostly Apple stuff, but over the course of the show he's complained about toaster ovens, TV's, the voting system in America and more.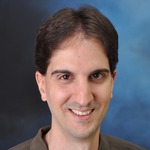 The 100th episode of Hypercritical was titled "Metacritical". After the beloved follow-up segment, John gave his top complaints about Hypercritical and then gave his replies to those complaints. It was great, but I agree with most fans of the show that what was wrong with the show also made it good.
I can't remember the first episode number I listened to, but it was probably close to #40 when John was picking apart Walter Isaacson's Steve Jobs biography. One of Johns points in episode 100 was that it could be difficult to get into because of the follow-up and continuous nature of the show. It's like a stream. Once I got in though, I looked forward to that Friday download every week.
Dan is having T-Shirts made with the Hypercritical logo. I'm thinking I might have to get one. I've downloaded a couple of the early episodes that John said were his favorites (the toaster episode and the TV episode). I'd like to start from the beginning and listen to all the episodes I missed. Another one of the "problems" with the show may prevent that though. The average length! It's almost two hours per episode.
I'm sorry to see the show go, but I respect John's efforts and wish him well. This is not the well thought out review that this podcast deserves, so I will be adding links to some better reviews and retrospectives.